Clutch Hails Be a Legend, Inc., as one of the Leading Digital Strategy Companies in Arizona.
The Be a Legend team is thrilled to announce that we've been named as one of the leading digital strategy companies on Clutch! It is a privilege to be included in the list of Clutch leaders in Arizona! 
Clutch is an established platform in Washington, DC, committed to helping small, mid-market, and enterprise businesses identify and connect with the service providers they need to achieve their goals.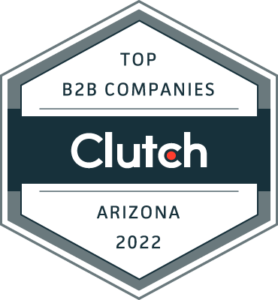 Lara Jones, our Founder and CEO, comments:
"We are truly honored to receive such a prestigious award for being one of the top companies in Arizona, recognized for Digital Strategy, in Marketing and Advertising. This is a true reflection of our discipline, commitment, and laser focus that's within Be a Legend's culture. To design and execute our digital strategies involves effort at every level of our organization, from our marketing specialists, technical members, through to executive leadership and I am immensely proud of our talented and conscientious team that strive for distinguished results for our clients. The knowledge and experience we provide, is why Be a Legend is so highly regarded. We make our clients' lives easier and always find solutions to client problems.  
Being a Legend is a team effort. We are all dependable on each other and contribute to one another's success. We encourage, promote positivity, and above all, we come together to provide the most outstanding experience for our clients and achieve results. We are thankful to our hard-working team that made this happen for Be a Legend to be recognized as the top B2B company in Arizona for Digital Strategy in Marketing and Advertising".
You can learn more about digital strategy and the solutions we offer, here. We would love to help you take your business to the next level! Get in touch with us today and experience the Be a Legend difference.